"You may have tangible wealth untold;
Caskets of jewels and coffers of gold.
Richer than I you can never be—
I had a mother who read to me."
(Strickland W. Gillilan, The Reading Mother.)
This is one of my favorite pictures of all time, it was taken in 1999. I love McKay and Ashley's interest in the book I am holding and I am happy to say they are still interested in books today!
I have even resorted to occasionally grounding Ashley from reading because sometimes that is ALL she does (just don't tell the librarian-Ashley told her I did that sometimes and she gave me a very disappointed look!)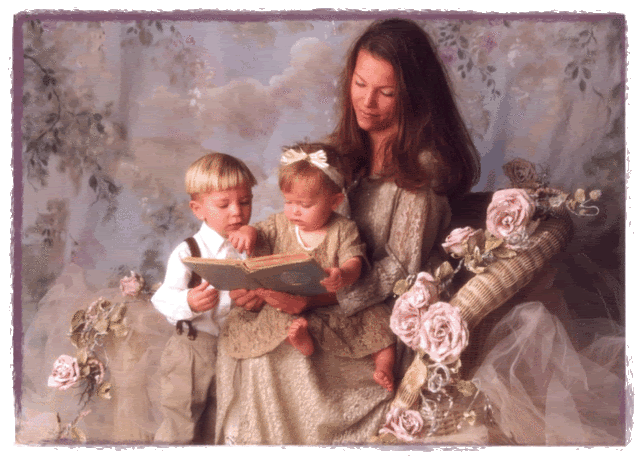 I love to read to my children as often as I can, but especially at night. That is when they snuggle up, all cares set aside and we are carried away into adventure land. I usually take the short stories and Jason takes long, adventurous books. They have read the Adventures of Huck Finn, 20,000 Leagues Under the Sea and are now embarking on Great Expectations. The kids love it and we occasionally make a treat to go with the book. With Great Expecations, we made bread pudding which is a very popular English dish, is cheap and very tasty!
English Bread Pudding
(from essentially England)
8 slices of white bread
2 large handfuls of dried fruit (currants, sultanas, raisins, mixed peel, berries - or all of the above)
2-3 tablespoons sugar (a little more if you like your puddings very sweet)
3 eggs
300-350 ml milk or half milk, half double cream
a little butter for the bread and for greasing the baking dish
Grease a large flat baking dish, about 1 - 1 1/2 inches deep.Then cut the bread into 8 medium to thick slices and spread with butter.Cut the slices into triangles, leaving the crusts on.Arrange half the bread in the greased baking dish, then sprinkle a tablespoon of sugar and half the dried fruit on top.Cover with the second layer of bread and repeat with the sugar and fruit.Next beat three whole eggs with about 300-350ml of milk or half milk, half cream.Pour the mixture over the bread and leave to soak for 10-20 minutes. (If you can't spare the time to soak the bread, it's not a disaster. The finished dish is still nice to eat, just not as silky.)Bake in a preheated oven at 350°F for 20-30 minutes, until puffed up and golden.Sprinkle with a little cinnamon or nutmeg and the last of the sugar.Top with whip cream.