My sweet grandma passed away yesterday at the age of 78.

She had been struggling with dementia for a while and now her body can rest.
Even though her body needed to go, we still feel such a void.
She was a spunky, intelligent, loving and hilarious woman.
We shared a common interest of music and she would always push me to sing, sing, sing.
One of my favorite memories of her was when she was my 3rd grade teacher and would call me up to her desk and tell me she loved me, sneak me some candy and say 'it isn't every day you get your granddaughter in your class, so it's ok to spoil you a little."
My 3rd grade teacher Mrs. Conder aka granny...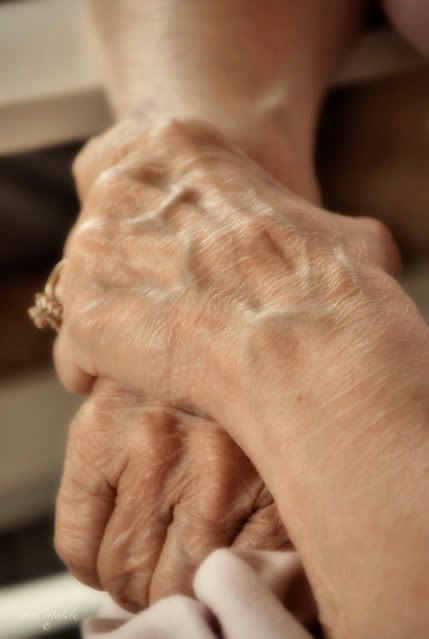 We love you granny and will miss you so much!
RaNae Conder
RaNae Naylor Conder, beloved wife, mother, grandmother and great grandmother, returned to the loving arms of her Savior, Jesus Christ , on July 15, 2010 from causes incident to dementia. RaNae was born March 17, 1932 to R.A. "Bert" Naylor and Bertha Maud Hughes Naylor. She was the seventh of nine children. Being raised on the farm, she learned the importance of hard work. Their home was filled with love, laughter and music. RaNae enjoyed accompanying her father by playing the piano while he sang. In June of 1950, RaNae met her sweetheart, Neldon Conder. She often said that the first time she laid eyes on him, she thought, "There is my husband." Neldon and RaNae were married three months later on September 22, 1950 in the Manti LDS Temple. Neldon and RaNae raised four children, teaching the same values and principles she learned as a child. RaNae was an active member of The Church of Jesus Christ of Latter-day Saints, serving as a pianist, teacher, Mutual (Young Women's) Presidencies. She often said her favorite calling was teaching the Spiritual Living lessons in Relief Society. Teaching was RaNae's chosen profession and she loved every minute she spent enriching children's lives at Midvale and Welby Elementary for 29 years. RaNae is survived by her loving husband of 59 years, Neldon; children, Sharlene (Ralph) Barton, Plano, Texas; Robert N. (Mary Jo) Conder, Riverton; Carol Ann (L. Duane) Lowder, South Jordan; Brad Conder (Rusty), Midvale. She also leaves behind 14 grandchildren and 33 great grandchildren; sisters, Marva Sorenson, Joan (Jim) Roberts, Fran Applegate; sister-in-law, Wanda Naylor; brother-in-law, John L. Clayton. Preceded in death by her parents; brothers and sisters-in-law, Dell (Jeanette), David (Lillian) and Roy Naylor; sisters, Farrell Clayton and Melva Prior; brothers-in-law, Gene Prior and W. Deal Sorenson; and dearest friend, Dona Wankier.